ALICANTE SPAIN
We have visited Alicante several times and regularly enjoy a night there. It's a friendly and very walkable city and the old town (Barrio) comes alive at night with many nice bars and restaurants and a nice vibe. The airport is quite close to the city and many people use it purely as a stopover before or after a flight, but it deserves more than that. The castle, Castillo de Santa Barbara is very central and you get great views from there, so it's well worth a visit. If you're down by the beach and looking up at the castle it looks like you'll have a strenuous climb to get there, but there is actually a lift that takes you up, so don't worry if you don't feel like walking! If you have a car, you can drive up to the top and park for free there. Guided tours are available or you can just wander about at your leisure. Visit this website for more information.

Click here to book great value hotels in Alicante Spain, view photos and read travellers' reviews


Alicante Hotels
Hotel Eurostars Mediterranea Plaza, Alicante
We have stayed at the Mediterranea Plaza Hotel three times - for one night in October 2013, one night in September 2014 and one night in October 2017. It's very centrally located, in the plaza close to the Ayuntamiento (town hall) and Alicante old town with all its bars and restaurants. The staff are very friendly and helpful, and the rooms and beds are comfortable. The second time we stayed there we were upgraded to a lovely room (Room 606) with a big terrace with 2 sunbeds and amazing views of the castle, because it was my birthday. A nice touch. Our standard room the first time was quite nice, if a bit plain (see photo in gallery above). The third time we were there we found it very noisy and our sleep was disturbed but other times we'd had no problems and didn't notice any noise. It probably depends on what side of the hotel you are located in. We were in room 501 which looked out on the street at the back of the hotel when we had the disturbed night, so if you're a light sleeper it's probably best to let them know when you're checking in. We twice got a deal with breakfast included, and it was standard buffet breakfast with fresh fruit, toast, rolls, ham, cheese, pastries, etc and a couple of hot options of scrambled egg and bacon. First time we were on a room only basis, but there are lots of cafes in the surrounding area where you can get coffee and tostada for a few euros so we wouldn't go out of our way to choose a deal with breakfast again. When we were there in 2017 they were charging €7.50 for the buffet breakfast which is quite good value if you're looking for more than toast.
Parking can be a bit of a problem in Alicante as virtually none of the central hotels have free private parking. We were recommended by Reception to park at the underground car park near the marina, next to the Melia Hotel, but when we parked there we were a bit taken aback to see that the cost was €24 for 24 hours, or €2/hour, which is excessive for Spain and adds a lot to the cost of an overnight stay. We moved the car to Parking San Cristobal on Avd Rambla Mendez Nunez, just round the corner and not much more of a walk from the hotel (10 mins at most) which wasn't quite as plush a car park and we had to go down to level -3 to find a space, but only cost €12 for 24 hours - a bit more like it!
We'd happily stay at the Mediterranea Plaza again and have recommended it to friends who have also liked it. Our only criticism would be that the rates seem to have gone up recently, but there are many cheaper options noted below if you're on a budget. Visit the
hotel's website
for more information or click
here
to make a booking, view lots of photos and read reviews from other travellers.
Abba Centrum, Alicante
We spent one night here in September 2016, and it is another good hotel to add to the list of possibilities for Alicante. It's not quite as central as the Eurostars (above) but the rates reflect this and it still just takes 10 minutes to walk to the centre. It's a 4* hotel with nice rooms, comfortable bed and pillows, good shower, a restaurant and bar, small rooftop terrace. We just had tostado, coffee and orange juice in the coffee shop for €3.50, but if you are hungry you can have a buffet breakfast for €12. The hotel has their own car park where you can park for €14 per day, but interestingly there was a public car park just next door which was offering parking for €12/day! Visit
Abba Centrum's website
or click
here
to make a booking, view lots of photos and read reviews from other travellers.
Smile & Co Hostal, Alicante
We spent one night here in July 2016 and found it ideal. Cristian, one of the owners, is incredibly helpful and will happily give you tips on where to go, where to eat, etc. The location is central and easy to walk everywhere, the room was spotless, the bed comfortable. There is a car park at the end of the road where you can park for 10 euros if you book in advance - you just have to collect a ticket from the hostal before entering the car park. Breakfast is included and is nice but simple with orange juice, tea or coffee, tostada with tomato - you could also have a croissant if you wanted. No complaints at all, and we'd happily stay here again. Visit
Smile & Co's website
or click
here
to make a booking, view lots of photos and read reviews from other travellers.
Click here to book great value hotels in Alicante, view photos and read travellers' reviews


Hostal Mendez Nunez, Alicante
We spent one night in this friendly small budget hotel in September 2014 and one night in June 2017. It's located in the same building as Hostal Rambla. Both times we found the receptionist to be very friendly and helpful, everything was spotless and it's a fantastic location bang in the centre and good value for money. The first time we paid just €50 for a double room, but it was €72 the second time being peak season. Breakfast is available for €6 per person and the buffet includes fresh fruit, cereal, bread, rolls, cheese, ham, yoghurt, etc. If you're travelling by car, park at the San Cristobel car park just up the road and get the hotel receptionist to stamp your parking ticket, so you get a discounted rate of just €9.50/day (normal rate is €12). Visit the hotel's website for more information, or click here to make a booking, view lots of photos and read reviews from other travellers.

Hostal Les Monges Palace, Alicante
We stayed at this small guest house for one night in August 2013. The location is excellent, right in the centre of the barrio although we arrived by car and it was a bit difficult to find. Our room had a four poster bed (see photo in gallery above) and was clean and comfortable enough. It had a small fridge which is always handy, and a flat screen TV. The shower room was compact to say the least, but the shower worked perfectly well. My father stayed in a single room along the corridor from us, and it looked very basic, but again was clean with a fridge and TV (and small shower room too). We'd have no problems staying here again, mainly because of the location, and the place, although quite basic, does have a bit of charm about it. They have a small private car park which costs an additional €12/day. Visit the hotel's website for more information (I'd recommend turning off any speakers first!!) or click here to make a booking, view lots of photos and read reviews from other travellers.
Hotel Rambla, Alicante
We stayed at this central budget 2* hotel for one night in September 2012. It is clean, in a great location and although it's nothing fancy it's great value for money. You can see a photo of our room in the gallery above. We didn't have breakfast, just room only, but there are plenty of cafes in the area where you can get breakfast for a few euros. The hotel has a deal with the underground San Cristobel car park a bit further up, on the same road so be sure to get Reception to stamp your parking ticket, as you will receive a discount. For more information, visit the hotel's website or click here to make a booking, view lots of photos and read reviews from other travellers.


Bars and Restaurants in Alicante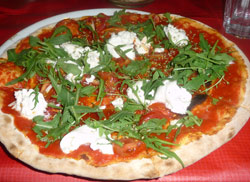 Sal & Pepe - We've eaten at this nice Italian restaurant in the barrio (Calle Muñoz 3) four times now so we obviously really enjoy it! The first time we had bruschetta to share to start and it was delicious, but last time we had it again and found it a bit too heavy and too cheesey. Huge portion though and more than enough for two. For main courses we have shared a Salad Sal & Pepe with tuna which is really tasty and have had the Pizza Italiana with buffalo mozzarella (see photo) which is absolutely wonderful! The pasta dish Penne con Pollo with chilli was also quite delicious, and has a real kick. Visit their website for more information.

A great place to have tapas in Alicante is Sento Barrio in the old town on Calle San Pascual 7, and sister restaurant to Cerveceria Sento which is a very popular bar on C/ Teniente Coronel Chapuli. The tapas is more interesting than the usual standard stuff, and we've been there twice, once with friends. We've had a very nice potato dish with bacon, cheese and yoghurt for €5, a tasty chicken dish with parmesan and balsamic vinegar for around €2.50 and another chicken dish for under €2. All were delicious. They have a large menu, with a big selection of montaditos which are very popular. We would recommend it without hesitation.


In 2017 we wanted to go to Sento Barrio but couldn't get a table, so we ate at Taberna San Pascual a few doors down at No 3. The staff were very friendly and the choice of tapas more traditional than Sento Barrio. The meatballs were very tasty, as were the ham croquetas, but the patatas bravas were just like soggy crisps covered in sauce and very disappointing.

There is a Thai restaurant in Alicante, Thai Corner, which is very popular. Being huge fans of Thai food we gave it a try in July 2016 but found it very disappointing. Perhaps if you have not been to Thailand and don't have such high expectations you will find it enjoyable - Trip Advisor's reviews are certainly outstanding and we appear to be in a minority.

Alicante has a plethora of ice cream shops! The Livanti ice cream shop opposite Sal & Pepe is very good, with a huge selection of flavours, including unusual ones such as chocolate with orange and chilli! The fruit of the forest sorbet is delicious! Another excellent one is Laneu at Calle San Francisco 12. Their Turon ice cream was really good, as was the chocolate and orange ice cream, and the raspberry sorbet.


If we ever find ourselves in Alicante on a Friday or Saturday at 11am we plan to try the Gourmet Walking Tour. It sounds like an interesting way to spend a couple of hours and you get to taste some typical food and wine from the region. It gets good reviews on Trip Advisor, so if you like the sound of it and want more information, click here.

There are many areas worth a visit in the Valencia region including Altea, Denia, Javea, Jalon Valley, Orba Valley, Peniscola.

Click here to reserve great quality hotel rooms in Alicante, Spain, view photos and read travellers' reviews

Other useful sites about Alicante:

Alicante.com - Alicante city information and travel site
Trip Advisor - Reviews from other travellers and a useful forum

*Note: Prices quoted above were accurate in 2013-18