We spent 2 weeks in Cuba in December 2004. We stayed for most of the time in Holguin at the Hotel Playa Pesquero and then at the end of our trip we had a few days in Havana at the Hotel Nacional de Cuba. We are not fans of package holidays, but Cuba is not the easiest of countries for the independent traveller, so the easiest option for us was to do a 2 centre holiday. We wanted a relaxing beach holiday on one hand but also wanted to see some of the country and didn't want to miss Havana. We would thoroughly recommend spending a few days in Havana to anyone planning a beach holiday in Cuba. The beaches are gorgeous and the standard of hotels appears to be generally very good, but you could be anywhere in the Caribbean. Havana gives you a taste of the real Cuba and is a colourful and vibrant city. Even if you don't book to stay a few days in Havana, you can do a full day trip (possibly even an overnight stay) from your beach resort.

A suggestion. There is a lot of poverty in Cuba and although the political system means that nobody should go hungry (they receive monthly rations), they can find it hard to get many of the items that we take for granted in the west, such as soap, toiletries, pens, notebooks, etc. Therefore it's a good idea to take with you a selection of unused toiletries, toys, coloured pens and crayons, notebooks, etc which you can give out to staff in the hotels as a thank you for good service (as well as tipping) and also to local kids you may encounter. You can be assured they will be extremely grateful for your gift and not at all offended.

Hotel Playa Pesquero, Holguin
A massive 5* all inclusive hotel, really tastefully done, lovely bright large rooms, a gigantic swimming pool, good selection of restaurants with good quality food and wine and a beautiful beach. We are not really 'all inclusive' types as we normally like to visit local bars and restaurants in the evening, rather than being stuck in our hotel all the time. However, most resorts in Cuba are all inclusive as there are not bars and restaurants nearby that you can visit. At least having a selection of restaurants made it more enjoyable. The a la carte restaurants had to be booked in advance. There was also a lobby bar, a beach bar, beer garden. We had no complaints at all about this hotel and would highly recommend it. The hotel does appear to be more upmarket now and is called the Playa Pesquero Resort Suite & Spa - click here for more information


Things to see and do in Holguin

We went on a tour which was called 'Cuba Inside' (cost $54 in 2004) and we would highly recommend it. We started with a visit to a cigar factory which was very interesting. It was a large factory full of people, mostly women, making cigars. They have to make a certain number of cigars to get the basic wage and then get paid extra if they manage to make more, so everyone was working very conscientiously and at top speed. Next stop was to a viewpoint with good views over Holguin, and we had some time to spend in Holguin itself before going to a restaurant with spectacular views of the countryside for lunch. After lunch we went for a short journey on an old steam train. It was a very strange journey - about 10 minutes along the line past very unscenic countryside then reverse all the way back again!! There was smoke belching from the train all the time and we had to stop a couple of times to build up the pressure to make more steam! The best part of the tour, however, was our guide who was a real character and told us a lot of interesting things about Cuba, the people, and the way they live.

We went on a cycling trip with the hotel. Again, this is really worthwhile as you get out of the hotel into the villages where the people live. The bikes aren't great - they don't have gears and the brakes squeak - but it's an easy ride so they're perfectly adequate. The guide takes you to a local farm - lots of chickens, pigs and sheep - and the farmer and his wife gave us fresh coconut juice and fresh fruit. Usually you are also taken to a school but the school was closed the day we were there.

We got a taxi to Guardalavaca, the nearest town. The taxi cost $10 each way (price at 2004) and it took about 15 minutes to get there. There was a small outdoor market just in front of the beach with jewellery, souvenirs, etc, a small beach and a few little beach cafes. We walked round to the Centro Commercial which is one of the main attractions of Guardalavaca, but there were only about 6 or 7 shops there, including a nice little clothes shop selling mostly upmarket t-shirts. Be warned! If you visit Guardalavaca you may have to wait a long time to get a taxi back to your resort. We had to wait in a huge queue, and lots of people were getting quite irrate at having to wait so long!
Click here to book great value hotels in Holguin, Cuba, view photos and read travellers' reviews
Havana Hotels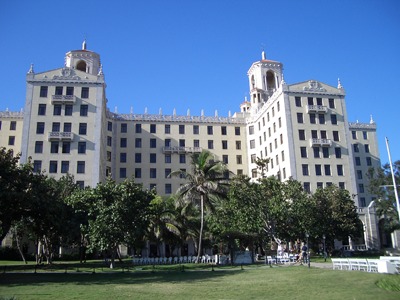 Hotel Nacional de Cuba, Havana
A fascinating hotel with bags of atmosphere and amazing history, wonderfully situated, overlooking the sea and the Malecon and set in fabulous grounds with extensive gardens. The rooms aren't anything great, they're a bit tired and drab, but we would still stay here again. Make sure you go on the hotel tour which is really fascinating - you get to go into the bunkers which were used in the Cuban Missile Crisis, see private rooms that were used for the American mafia and visit the hotel's museum with photographs of the huge number of famous people who have stayed there. Breakfasts were quite good, though it could be difficult to get a table if you came down at a busy time. We ate once in the small restaurant at the back of the hotel, and had the most delicious tender chicken with beans and rice, and great mojitos! They regularly have concerts and shows in the hotel's ballroom - we went to a concert by the Buena Vista Social Club. Visit Hotel Nacional de Cuba's website.
Things to see and do in Havana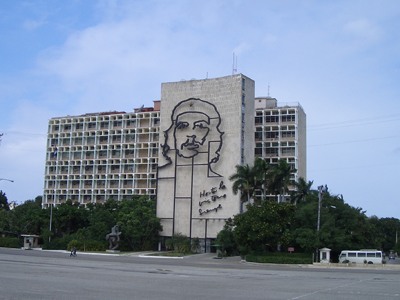 t's probably worthwhile doing a city tour, specially if you're only in Havana for a few days. It will take you to all the main sights - the fort Castillo el Morro with good views of the Havana skyline; Plaza de la Revolution, where Fidel Castro regularly addressed the Cuban people and where the José Marti memorial stands;
opposite you see the famous Che Guevara image on the Interior Ministry building; you also visit a rum factory (House of Legendario Rum) where you see how the rum is made and then get to taste (and buy!) the different types of rum; and the trip is completed by a walking tour of central Havana where you see all the main points of interest. We found it to be a worthwhile tour, although the final part, the walking tour, was a bit drawn out and most people went off on their own by the end.
There is a lot of poverty in Cuba, and in Havana you will see some streets where people are living in houses that are virtually collapsing around them. The people have a great spirit however and they are friendly and welcoming. We walked around Havana, even round the poorer areas and we felt that it was a very safe city.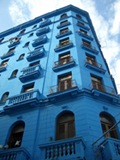 There is a contrast to the old, dilapidated buildings with the stunning architecture, from Spanish colonial to baroque to art deco - lots of interesting colourful buildings. Add to that the 50s cars that fill the city and Havana is a photographer's dream.
Bars and Restaurants in Havana


There are lots of bars and cafes in the centre of Havana, many with live music. The sound of live music is never far away, and adds to the vibrancy and upbeat feel of the city.
Our favourite restaurant was Mina Restaurant near the park of Plaza de Armas at Calle Obispo 109. Walk through to the courtyard at the back and you'll find a lovely restaurant (see right)shrouded with tropical plants and peacocks strutting about and with a fantastic live band. The food was nice too, typical Cuban fare with mostly pork, beans and rice.
The Hotel Ambos Mundos was reported to be Hemingway's favourite hotel. The piano bar, Cafe Ambos Mundos, is a nice place to stop for a drink and has a nice ambiance.

El Floridita (Calle Obispo 557) was a Hemingway hang-out which is now a tourist trap, with the reputation of the best dacquiris in town. Another Hemingway bar which is now packed full of tourists and overpriced Mojitos is La Bodeguita (Calle Empedrado 207).
Some useful sites about Cuba:
Time Out Havana - Lots of useful information about Havana here
Trip Advisor - Reviews from other travellers and a useful forum
The Guardian - Cuba - Some useful articles from The Guardian about Cuba
Cuba Travel Network - Flights, tours, excursions, etc


*Note: Prices quoted above were accurate in 2004